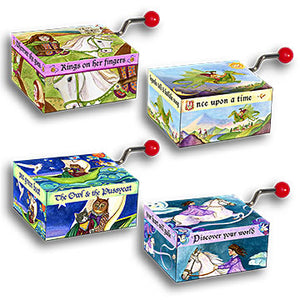 The Storybook collection of mini music boxes.
Carry a tune in the palm of your hand or stash one in your pocket. Bring a little joy with you wherever you go with our Mini-Musics.  Little kids love these tiny fairy gifts!
Smaller than a matchbox, lighter than a laugh, each tiny music box has a dreamy illustration and plays its own sweet melody when you turn the handle.
You'll want to collect them all. And they're yours for a song. This music box plays "Clair de Lune".