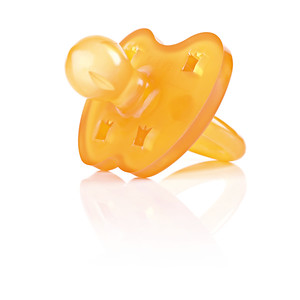 Round teat - Size 3 to 36 months
Are you looking for a round shape pacifier that is similar to the shape of your babies bottle? The Crown pacifier (3-36mo) is handcrafted out of pure natural rubber with a silky touch, and is of course, toxic free and compostable. Easily identifiable with Hevea's unique crown ventilation holes, and an ergonomic butterfly shape that gives space for the nose and chin, which prevents vacuuming around the mouth. If your child is used to drinking from a bottle, chances are high, they will love the Crown pacifier with a round teat. Our packaging is designed for gifting and made from FSC certified paper, but you have the option to receive your order without packaging.
The name "Hevea" originates from the Latin name for a genus of rubber trees, Hevea Brasiliensis.
Meets EU standard EN1400, US regulations CPSIA & AUS regulation AS 2432-1991