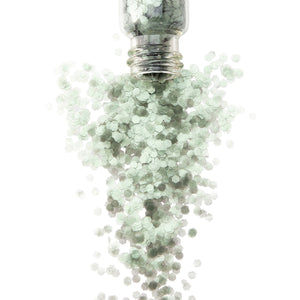 OLIVE BIODEGRADABLE GLITTER (10 mL jar)
This is nothing like those gross, chunky, snot-tasting things on pizza.
This olive is sophistication. It's rustic. It's earthy. Nobody tries to pick it off
when they see it on things.
YOU'RE PROBABLY WONDERING WHAT HAPPENS TO YOUR GLITTER WHEN IT'S DONE ALL IT CAN FOR YOU.
Well because it's made from plants not plastic
No matter where it ends up Mother nature will consume it within her ample bosom, and break it down within 90 days. 
It's Certified OK Biodegradable WATER  this means guaranteed biodegradation in a natural environment. Want to know more about mother nature and her wondrous powers or the nitty gritty details of our glitter  CLICK HERE. 
So go on......... USE IT TO REPLACE TRADITIONAL GLITTER

NOT JUST FOR MAKE UP ....... use for arts and crafts, perfect for potion making and sparkling up sensory play, knead it into playdough or mix it in with slime.
Suitable for Face, Hair, Body, Nails it's FDA approved 

No need for harsh glue, use chap stick, paw paw balm, aloe vera gel or eyelash glue to pop glitter on using fingertips, or a brush. 
THE GLITTER TRIBE STRAWBERRY MILKSHAKE IS MIXED FROM THE Bioglitter® PURE, SPARKLE AND OPAL RANGE

Product detail: 10 mL jar