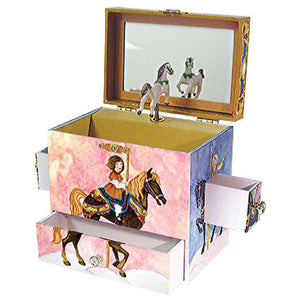 Open the lid of this gorgeous children's music box by Enchantmints to see a white carousel horse dance to the tune of  'The Entertainer'.  A magical place to store tiny treasures, with four secret drawers, illustrated with a traditional carousel set in soft pink and blue watercolour washes, this music box will be cherished for many years.
Enchantmints children's Music Boxes are beautifully made with:
charmingly illustrated laminated graphics
flocked paper that feels like velvet within
an assortment of drawers for storing all sorts of precious possessions, jewellery and secret treasures.
a hinged top that flips open to reveal a mirror
a figure who circles around to the enchanting music when the rear key is wound.
size: 15 x 10 x 15 cm
Melody: The Entertainer
Recommended age: 3 years old and older. 
A special note: Teach your little one to wind up the box with care and be sure not to crank too hard. Overwinding will damage the musical movement mechanism inside the box and then the music will no longer play.
These musical treasure boxes are handmade in China with the highest quality MDF, laminated with beautiful printed paper. Enchantmints a family-run company that has been specializing in music boxes for over 40 years.